To shop for a mortgage, you have to apply and get pre-approved with 3 or more lenders. You can expect that process to take at least a few hours.
But those few hours of work are proven to be worth it. 
The Consumer Financial Protection Bureau (CFPB) says borrowers could save $300 per year on average by comparing rates from just three lenders. And negotiating your rate can get it down even lower.
All told, you could save thousands by comparing rates — even tens of thousands, if you keep your mortgage a long time. Ready to get started?  
Get started comparing mortgage rates (Sep 6th, 2021)
---
In this article (Skip to…)
---
How to shop for a mortgage: Key takeaways
Shopping for a mortgage is almost guaranteed to save you money because all lenders offer different rates to different borrowers. And if you know what you're doing, it doesn't have to be difficult or time-consuming.
Here are the 5 main things you should know about shopping for a mortgage:
You have to get pre-approved to know your 'real' rate
You'll fill out an application and provide supporting documents
You should apply with at least 3-5 lenders
Compare interest rates and lender fees. Look out for discount points
Use competing offers to negotiate your rate or fees
This involves a little more work than just comparing advertised rates online. But it's worth it. Putting in a few hours of effort could save you thousands — so why wouldn't you?
How to shop for a mortgage in 6 steps
Shopping for a mortgage isn't all that hard. At least, not if you know what to expect. Here's how the process will go:
Get your documents together — Lenders will need proof of your income, assets, and credit to give you an accurate rate quote. So start compiling the paperwork you'll need on your application, like bank statements and recent pay stubs
Get preapproved — Find a lender you like the look of and get a preapproval letter. This allows you to make an offer a seller will accept. But getting pre-approved doesn't commit you to that lender —you can swap to another later if you find a lower rate
Shop around with a few lenders — Request quotes from at least four lenders plus your existing lender (if any), your bank or credit union and any mortgage brokers you have relationships with
Compare the quotes you get — We'll show you how to compare loan estimates and find the best mortgage rate below
Finalize your application — Choose your preferred lender, fill out your mortgage application, and stay on top of admin until closing
Don't make any life changes before closing — Try to avoid changing jobs or becoming unemployed, if at all possible. And don't open or close any credit accounts. Any of the last three could reduce your credit score. And lenders routinely recheck your credit history just before closing
We'll cover some of those in more detail below. But those are the basic steps to shopping for a mortgage and finding the lowest rate.
Start shopping for your mortgage here (Sep 6th, 2021)
How many mortgage quotes should I get?
Most experts recommend getting at least three rate quotes when you shop for a mortgage. But there's no limit to the number of lenders you can apply with. And research suggests that the more quotes you get, the more money you'll save.
For example, Freddie Mac found that "borrowers could save an average of $1,500 over the life of the loan by getting one additional rate quote and an average of about $3,000 for five quotes."
You should get at least 3-5 mortgage quotes when shopping for a home loan. The more quotes you get, the more you're likely to save.
The good news is that most lenders have a similar application process. You'll need to provide the same types of documents and answer the same types of questions every time you get a rate quote.
So after you've applied once, you'll already have all the information you need on hand to apply with a few more lenders. And with most lenders offering online pre-approval applications these days, the process can be pretty quick and painless.
How to compare mortgage rates
At face value, comparing mortgage rates is easy.
You can apply for pre-approval with 3 or more lenders and simply compare the rates you're offered. But remember — your interest rate isn't the only thing that matters. You also need to look at factors like closing costs, origination fees, annual percentage rate (APR), and discount points.  
Luckily, it's easy to compare mortgage quotes and find the best deal.
All mortgage offers come in the same format, called a 'Loan Estimate', so you can quickly skim for rates, fees, and other important information to find the best offer.
How to read your Loan Estimates
You will find your loan terms, quoted interest rate, and monthly payment on the first page of your Loan Estimate.
Along with comparing interest rates, you can use this page to:
Make sure all your loan offers are for the same loan type (conventional loan, FHA loan, VA loan, etc.)
Make sure they're all quoting the same type of rate (fixed-rate mortgage or adjustable-rate mortgage)
Compare monthly mortgage payments to see which loan is cheaper month to month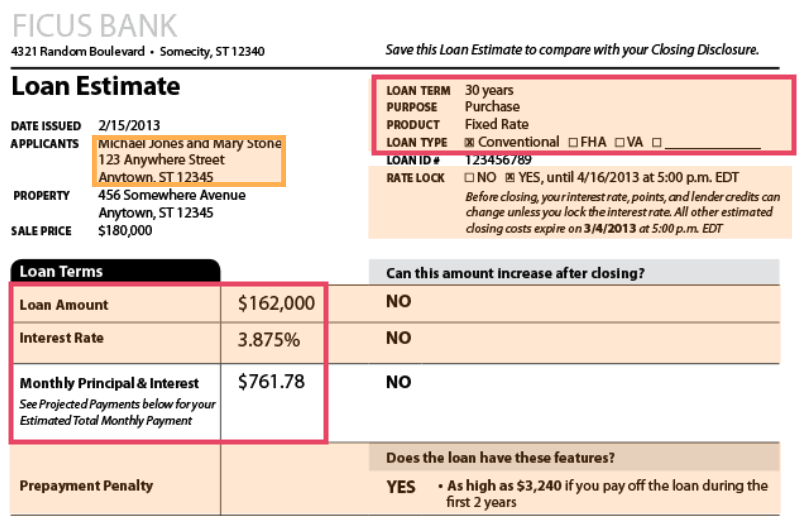 On the second page, you will see your closing costs and other upfront expenses, like prepaid taxes and homeowners insurance.
Note that loan costs are separated into two categories: (A) Origination Charges, and (B) Services You Cannot Shop For.
Origination charges represent the lender's own fees. You'll want to pay close attention to this section when shopping for a mortgage because these fees can vary a lot from one lender to the next. Shopping for a lower fee could save you serious cash at the closing table.
In addition, this section includes information on 'Points.' Points  — or 'discount points' — are an additional fee paid upfront to get a lower interest rate.
You'll want to pay attention to discount points when shopping for mortgage rates. If one mortgage lender has exceptionally low rates, but charges points, you know you have to pay extra upfront to actually get that rate.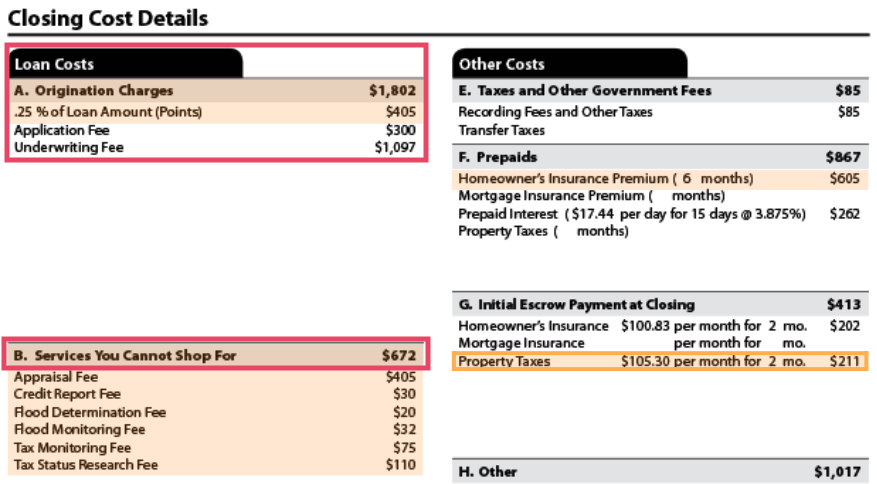 Images: CFPB
Because these documents are uniform, it's easy to compare Loan Estimates from different lenders side by side and find the very best deal on your rate and closing costs.
Use your mortgage quotes to negotiate
Keep in mind that the mortgage quotes you get are not set in stone. Mortgage lenders have the flexibility to adjust their fees and even their interest rates. That means you can often use competing offers as leverage to negotiate your costs.   
Don't hesitate to play one lender off against another: 
"I like your company, but I've got a quote here with a lower rate or less expensive closing costs. Can you match it? Better yet, can you beat it?"
Chances are, these negotiations won't lower your rate by much. But, when you're borrowing huge amounts over decades, even a tiny drop in your rate can add up to hundreds or even thousands. And what do you have to lose?
Get started comparing mortgage rates (Sep 6th, 2021)
What's a good mortgage rate?
Mortgage rates are incredibly low right now — around 3% on average. If you can secure a fixed mortgage near or below 3%, that's a great rate by historical standards.
For perspective, the long-time average for 30-year fixed mortgage rates is about 8%. That's the average since Freddie Mac's records began in 1971. 
But keep in mind that not everyone gets the same rates.
The best mortgage rates are reserved for "top-tier" borrowers. Those are people with:
Stellar credit scores (740 or higher)
Spotless credit reports
Low debt-to-income ratio (DTI)
Plenty of assets and savings
A big down payment (20% or more)
Of course, few borrowers are 'perfect.' Most of us fall somewhere on the spectrum between excellent and so/so personal finances.
Where you are on that spectrum will determine the mortgage rates you qualify for. But knowing how to shop for a mortgage will help you make sure your deal is at the better end of that range.
How to shop for a mortgage: FAQ
How many mortgage quotes should I get?
Aim to get at least 3 mortgage quotes. This will give you a good idea of the range of mortgage rates you qualify for. Ideally, get 5 or more quotes in order to find the very best rate and maximize your savings.  
What do you need to know when you shop for a mortgage?
The biggest thing you should know is that lenders cannot tell you your mortgage rate until you've been pre-approved for a mortgage loan. So in order to shop for a mortgage, you need to actually apply — and provide documents — with more than one lender. This takes some time, but it's the only 'real' way to find your best deal. Looking at advertised rates online won't help you.
What's the difference between pre-qualified and pre-approved?
Getting pre-qualified can be a helpful first step in the home buying process. Pre-qualification involves answering a few questions about your financial situation, after which a loan officer will tell you whether you might be mortgage-qualified and what your maximum loan amount is likely to be. Mortgage pre-approval, on the other hand, is a more rigorous process that involves supplying financial documents and going through a credit check and underwriting. After this, you'll have a verified approval and know your final loan amount and interest rate. Pre-approval is often required to make an offer on a house.
Can I have 2 mortgage offers?
Yes. You can have as many mortgage offers as you want. You are never obligated to work with a mortgage lender until you've signed final closing documents, so there's no danger in applying with more than one company. The only thing to look out for is whether lenders have application fees. Ideally, you want to shop around with lenders that won't charge you a fee to apply and check your rate.
How should I choose a mortgage lender?
You can narrow down your initial list of lenders based on recommendations, online reviews, advertised rates, and availability of the loan product you need. Once you've chosen 3-5 lenders that look promising, you can apply for pre-approval with each one. Then compare the Loan Estimates they give you to find the best combination of interest rates and upfront fees for your situation.
Does shopping for a mortgage hurt your credit?
Lenders do a hard credit pull when you apply for pre-approval, which typically hurts your FICO score by 5 points or less. But as long as you get all your mortgage quotes within 2-4 weeks of each other, any hard inquiries during that time will count as a single inquiry. So your score will not be dinged multiple times. Aim to get all your quotes on the same day, if possible, as this will give you the most accurate comparison between lenders.
How long does it take to get approved for a mortgage?
From application to closing, the mortgage process typically takes around 30-45 days. This can vary depending on how complicated your loan application is, how fast you respond to your lender's requests, and outside factors like how busy the lender is or how long it takes to get a home appraisal done.
How do I get the best mortgage rate?
Your mortgage rate is largely based on your personal finances. To get the best rate possible, start improving your credit and paying down debts 6 months to a year before you want to buy a house. Try to keep credit card balances below 30 percent of their limit. You can also lower your mortgage rate by making a bigger down payment. Finally, be sure to compare rates from at least 3-5 lenders. Interest rates vary a lot by company, so shopping around can help you find the best deal.
What are today's mortgage rates?
To find out what your best deal on a mortgage today is, get multiple quotes. Then compare them carefully, making sure each loan has comparable terms and the same lock period. That's easy to do online.